We are committed to dance
Dance Resource Base is committed to developing dance and raising the profile of the art form in Northern Ireland. We work towards this by developing innovative partnerships at the local, national and international level.
Love to DANCE Fund
The Love To DANCE Fund aims to foster excellence by providing dance teachers/facilitators with small grants of financial assistance to help with accessing best practice training opportunities outside of Northern Ireland. Dance teachers/facilitators will be eligible to apply for a limited number of small grants of up to £200 each to attend appropriate dance training and skill development opportunities in any dance style or any business development matters connected to their dance participation provision.
Funding for this project comes from the Arts Council of Northern Ireland.
Dance Artist Development Project 
The EVOLVE pilot project, which acts as a showcase for four new works-in-progress from local choreographers, premiered at the MAC, Belfast, on Thursday 2 April. The show, which was completely sold out, was followed by a post-show discussion and feedback from the audience.
The Reason I Jump from Suzannah McCreight
Creative Collaborator: Heather Wilson
Dancers: Stephanie Dufresne and Leonie McDonagh
Princess Gritzabella from Gary Rowntree
Creative Collaborator: Philip Parker
Dancer: Lorcan O'Neill
Hope Hunt from Oona Doherty
Creative Collaborator: Chris McCorry
Dancer: Neil Fleming Brown
ionsú from Bridget Madden
Creative Collaborator: Gail Mahon
Dancers: Esther Alleyne, Leonie McDonagh and Abbie Madden
All images by Joe Fox Photography.
Dance Resource Base was pleased to partner with the MAC, Belfast on this project. EVOLVE is supported by the National Lottery through Arts Council of Northern Ireland with additional support from Echo Echo Dance Theatre, Derry-Londonderry.  The Arts Council of Northern Ireland is Dance Resource Base's principal funder.
Dance Audience & Artist Development Project 
In 2014/15, Dance Resource Base and Partners, including dance companies and major venues who programme dance performances, delivered a scheme aimed at growing new and existing audiences for dance across Northern Ireland.
ATTENDANCE is a new dance audience development campaign driven by Dance Resource Base and partner dance companies, festivals and venues. It hopes to inspire existing audiences to enjoy even more types of dance, and to help new attenders take a leap and try their first event.
ATTENDANCE is part of a project funded by the National Lottery through the Arts Council of Northern Ireland.
To find out more about dance in Northern Ireland and help your friends sign up for the campaign e-newsletter, log on to www.attendanceni.com.
Funding for this project has been provided by The National Lottery through the Arts Council of Northern Ireland's Project Funding programme, Dance Resource Base as well as our project partners including DU Dance NI, Dylan Quinn Dance Theatre, Echo Echo Dance Theatre Company, Maiden Voyage Dance, ponydance, The Burnavon, The Braid, Crescent Arts Centre, Down Arts Centre, Grand Opera House, Island Arts Centre, The MAC, Theatre at the Mill, Waterfront/Ulster Hall, Young at Art/Belfast Children's Festival and Belfast Festival at Queen's.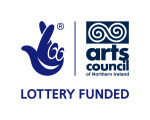 Developing Participation in Dance – Belfast Dance Participation Survey 2014
During late 2013 and early 2014, Dance Resource Base undertook the first ever survey of dance participation activity in the Belfast City Council Local Government Area. Responses were sought from over 250 dance professionals working in different community settings with about a quarter fully completing the survey. The aim was to get an overview of dance provision – a map of dance in the city and identify any gaps, trends or issues that might be relevant to future dance development.
The survey results cover four areas including information about the dance professionals, dance participants and types and styles of dance available, teaching environments and professional development needs.
While the survey was specific to Belfast, we believe that the survey findings as well as the key dance development trends are relevant to all local authority areas in Northern Ireland. The final survey results are available here.
Funding for the Belfast Dance Participation Survey was provided by the Belfast City Council. The Arts Council of Northern Ireland is a principal funder of Dance Resource Base.
Northern Ireland Dance at British Dance Edition 2014
Dance Resource Base led the first joint delegation from Northern Ireland to attend the UK's most significant showcase for dance, British Dance Edition 2014 with the aim of developing resources to increase the profile of local dance companies in the global dance market. This project had three strands:
Supporting the companies to attend British Dance Edition 2014 in Edinburgh, 30 January to 2 February 2014;
Providing an opportunity for two emerging artists to accompany the delegation and attend the different British Dance Edition events; and
Creating seven promotional films: 1. A short, viral film to promote Northern Ireland dance globally and for use on social network platforms and 2. 6 short film each one focussing on the work of the participating companies.
British Dance Edition 2014 was attended by five Northern Ireland companies (Assault Events, DU Dance NI, Dylan Quinn Dance Theatre, Maiden Voyage Dance and ponydance), two emerging artists (Sheena Kelly and Eileen McClory) and two representatives from Dance Resource Base (Kelly-Anne Collins and Jane Mooney).
Principal Funder of this project is the Creative Industries Innovation Fund.
Community Schools NI Project
Dance Resource Base was engaged by Artemis Schools NI to programme a range of dance classes promoting active participation in dance for local communities in East Belfast. For over two years (January 2010 – December 2012), Dance Resource Base employed freelance, specialist dance facilitators to deliver a range of dance classes aimed at different local groups and communities across East Belfast. The project was funded through Big Lottery and based in the new state of the art dance studio in Ashfield Girls High School. Dance classes included a weekly session for pupils of Mitchell House School, a specialist school for children with physical disabilities, Dance Fusion Summer Schools, courses in creative dance for children and young people and older people as well as Beginner's Ballroom and Zumba classes.  This project was completed in July 2012.
Delve
With support from the National Lottery and the Arts Council of Northern Ireland, Dance Resource Base has provided a series of creative and business skills development opportunities for dance professionals. Workshops have included Inclusive Dance Practice, Marketing Dance, Fundraising Do's & Don'ts, Creative Sponsorship, Developing the Creativity of Children through Dance and Teaching and Creating Dance with Older People. In 2013, DELVE events included a session looking at audience development and engagement and creating dance work for young people as part of the Belfast Children's Festival 2013.
Greater Visibility for Dance Resource Base
Throughout 2013, Dance Resource Base will work marketing consultant, Island Marketing Clinic, to draft a long term marketing strategy to further develop and sustain Dance Resource Base as the premier support organisation for the dance community across Northern Ireland. Underpinned by our overall Corporate Strategy, the marketing strategy will enable DRB to 'grow' the organisation, better support the sector and expand on and deliver services to members and the dance community more broadly. Dance Resource Base will thus be in a better position to attract additional funding; develop our membership base; and demonstrate how our activities bring added value to and help promote and develop dance in Northern Ireland. Funding for this project was provided by The National Lottery through the Arts Council of Northern Ireland's Capacity Building Programme.
Get in touch
Have an enquiry?
For general enquiries, bookings, availability and hire price information regarding either of the spaces or the equipment, please contact Dance Resource Base.
Get in touch